Ports
Despite the majority of all African trade being through imports and exports at its largest regional ports, the continent's ports handle only 6% of global water borne traffic and only 3% of global container traffic (Source: World Atlas).
Volumes loaded and unloaded at Africa's largest ports (2018)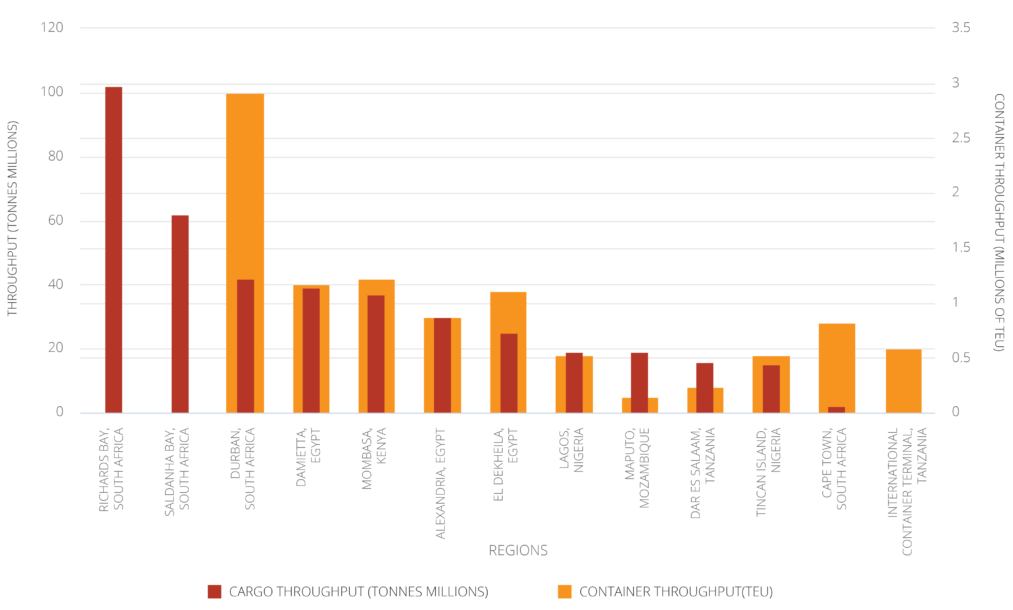 Source: BMI Research, RisCura analysis
South Africa's Richard's Bay and Saldanha Bay ports handle predominantly bulk and breakbulk cargo, and throughput the highest volumes of cargo on the continent. Saldanha Bay handles mainly iron ore for export and Richard's Bay primarily coal. Durban is the continent's largest container terminal, handling 2.6 million twenty-foot container equivalents (TEUs) in 2018.
Mombasa is East Africa's port hub, handling double the cargo throughput volumes of neighbouring Dar Es Salaam and nearly 10 times the container throughput. The Mombasa port facilitates imports and exports via Kenya to and from landlocked East and Central African countries. Throughput volumes at Mombasa's port have doubled in the last 10 years, enabled by the expansion of the port between 2012 and 2016. This expansion was Phase 1 of the Mombasa Port Development Project and increased the container terminal capacity to 1.7m TEUs from 1.1m TEUs. However, the port is becoming congested and reports suggest that cargo clearance is a significant issue causing delays and increasing trading costs. Phase 2 of the port's expansion is underway, which involves further expansion of the port's container terminal to 2.1m TEU's, an additional 24% increase in capacity.

Growth in port activity is constrained not only by the size and physical infrastructure of the ports, but by the burden of paperwork, customs procedures, loading efficiency, storage capacity around the ports, and transport logistics to move goods and cargo inland. On both the import and export front, Nigeria, Egypt & Sudan and Central Africa fare very poorly on both time and cost to trade.

In Nigeria it takes over 400 hours to complete the border and documentary compliance procedures for import, and over 250 hours for export. While this is a concern for the current systems in place, it should also be seen as an opportunity to bolster trade through improvements in these areas.
It is quite clear that there is a positive correlation between time and cost when it comes to trade.
It is quite clear that there is a positive correlation between time and cost when it comes to trade. A focus on increased efficiency in these areas would allow increased volumes at the ports without immediate investment in physical infrastructure.